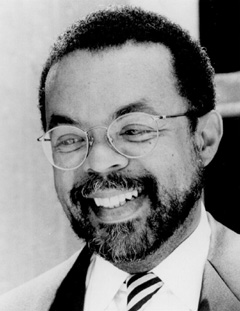 The woman who called 911 after seeing Dr. Gates "break" into his own home said she saw two men, one of whom looked Hispanic. At no point did she say she saw two Black men with backpacks as indicated in Det. Crowley's police report.
Listen
to the tape for yourself.
UPDATE: Lucia Whalen, the Portuguese-American caller who placed the 911 call, denies exchanging any words with the officer about the race of the men who were seen outside the house.

Asked whether she spoke to Crowley when he arrived at Gates' home, she said: "The only words I exchanged were 'I was the 911 caller,' and he said, 'Stay right there.' " The officer's police report indicates a detailed exchange in which she indicated two Black men were seen at the home. The officer later stated Whalen and other spectators seemed alarmed at Gates' behavior outside his home which lead the officer to place him under arrest for disorderly conduct.

Might I suggest, she might have been distressed to see that an emergency call she placed in good faith lead to an older disabled distinguished colleague of hers (she works at Harvard) being arrested at his own home? That is just a suggestion, mind you.