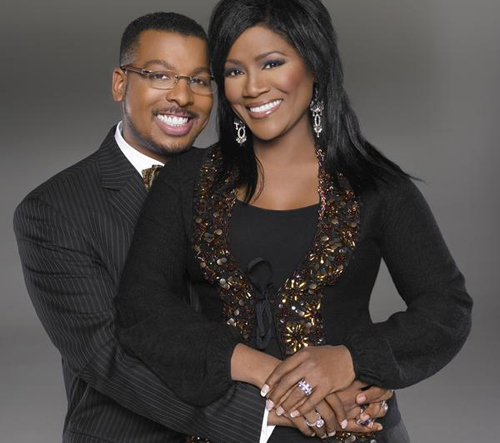 PROPHETESS Juanita Bynum (I giggle every time I say that "prophetess") ex-husband Bishop Thomas Weeks, III has a new woman, PROPHETESS Christina Glenn (and curiously, a MySpace profile). You may or may not recall the furor caused when Weeks was accused of stomping and beating the tar out of Bynum in a hotel parking lot, choking her, and telling her he was going to kill her (he later plead guilty to aggravated assault). Last year Weeks launched an online show called "Who Will Be The Next Mrs. Weeks?" that garnered a huge response. Among other things, Weeks listed ability to
sign documents with a $6,000 ink pen
bear children,
ability to take an ass-kicking
sensuality, and
ability to make herself unrecognizable with makeup
"not ugly" as the qualifications to be his mate. Completely unconfirmed rumors at the time suggested the Atlanta-based Weeks became enraged when his then-wife confronted him about liaisons with men. Just like with O.J. Simpson, James Brown, and others, I find myself shaking my head asking, what was she thinking? That goes for the old Mrs. Weeks as well as the new one.