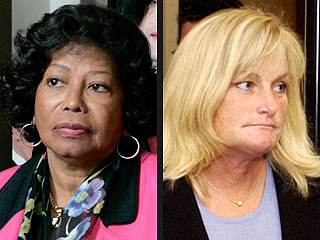 According to the
Daily Mail
and
Time
lawyers for Katherine Jackson and Debbie Rowe may have reached a custody agreement that would keep the children away from Joe Jackson. According to the deal, Katherine would retain custody of the children in accordance with Michael's will, but Debbie would have "regular access." Joe would have no access except for family gatherings.
Reportedly, Joe has been sizing up the children for their performing potential and has expressed a desire to co-parent with Katherine. 'I keep looking at Paris and she wants to do something and Blanket, he can really dance,' he said. Joe wants to share custody with his estranged wife, Katherine, insisting 'We should keep them all happy, feed 'em like they're supposed to be fed and let them get rest, plenty of sleep and grow up be strong Jacksons.'
Michael did not think Joe was the father of the year. In 1993, he told Oprah Winfrey there was "a lot of sadness" in his childhood. He said his father would tease him about his pimples and would even beat him, especially after less than perfect rehearsals. Michael claimed his father was "very hard" and that he was "frightened" of him. In contrast, he praised his mother as "wonderful" and "perfection." Michael wanted Katherine and Katherine alone to raise the children. He explicitly cut Debbie Rowe AND Joe Jackson out of his will.